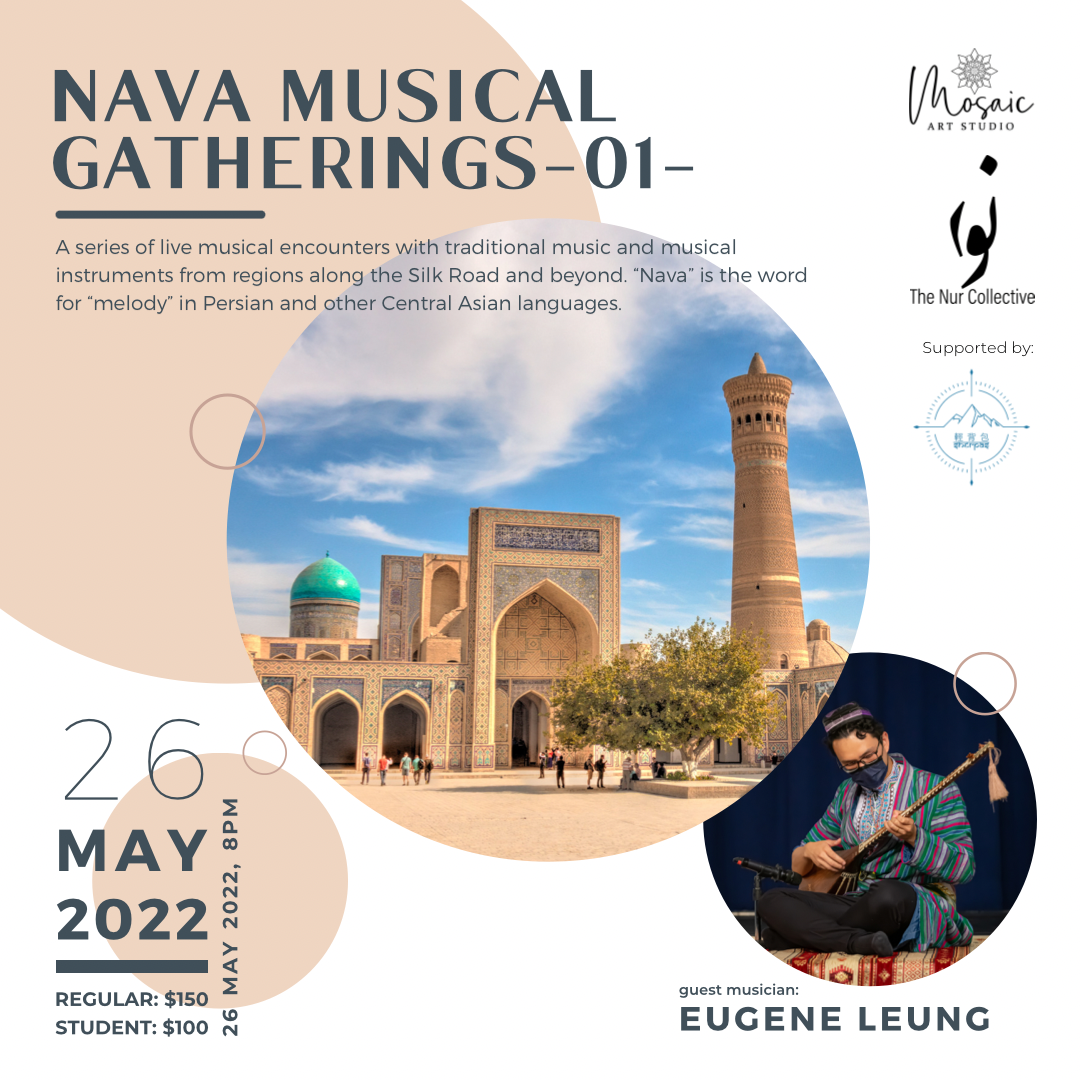 "Nava" Musical Gatherings -01-
"Nava" Musical Gatherings -01-
In 2022, The Nur Collective and the Mosaic Art Studio will bring to you the "Nava Music Gatherings", a series of live musical encounters with traditional music and musical instruments from regions along the Silk Road and beyond. "Nava" is the word for "melody" in Persian and other Central Asian languages.

The encounter recreates the atmosphere of a traditional private music gathering in Central and West Asia, in the intimate setting of the Mosaic Art Studio. In each event, you will experience the exquisite sounds of musical instruments from a country or community of the region, performed by Hong Kong-based musicians. You will be guided through the cultural background and significance of the musical, look at the craftsmanship of instruments up close, and interact with musicians in an informal setting.

taking place on 26 May 2022 will be music from historical cities in Central Asia, such as Bukhara, Khiva, and Kokand, in today's Uzbekistan and Tajikistan. Through the music of instruments like the silk-stringed lute dutar, we will explore each city's unique character as well as its relations with surrounding regions.


2022年,The Nur Collective和Mosaic Art Studio將為您帶來「Nava音樂聚會」- 一系列引介、現場演奏絲綢之路沿線及其他地區的傳統音樂和樂器的聚會。「Nava」在波斯語及其他中亞語言裡有「旋律」的意思。

在Mosaic Art Studio特別的環境中,我們將嘗試帶來在中亞、西亞的傳統私人音樂聚會的氣氛:您可近距離欣賞本地樂手奏出的各種當地樂器精緻的音色、從他們的分享了解音樂背後的文化背景及意義、更可細看樂器的精美手工,並在輕鬆的氣氛下與樂手們互動。

系列首個聚會將於2022年5月26好舉行,並以中亞的歷史古城為題、透過絲弦琴都塔爾(dutar)等樂器,介紹位處與今天烏茲別克和塔吉克的皇城如布哈拉、希瓦、浩罕等的特色以及他們與鄰近地區的關係。"