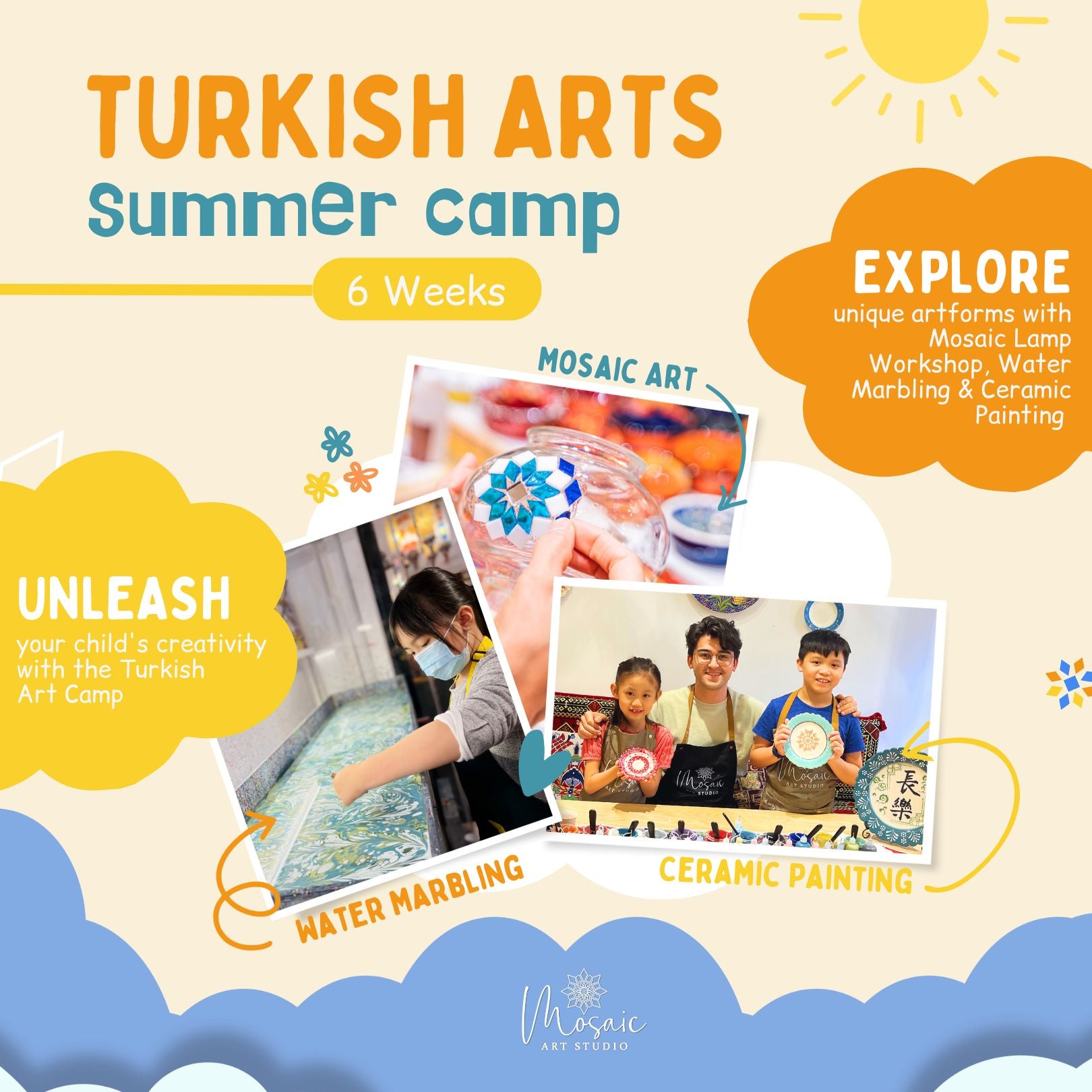 Turkish Arts Summer Camp "6 Weeks"
描述
We offer Turkish art summer camp programs, including the Turkish mosaic lamp workshop, water marbling, and Turkish ceramic painting. It's the perfect way for your child to explore their artistic side while learning something special and different.
⏳ Duration of the camp
Our summer camp is a 6-week program.
Attending one class per week,
Each class is typically 75 minutes long.
Age Group
We are offering two age categories: 'Junior', designed for children aged 6-9 years, and 'Intermediate', intended for those aged 9-12 years.
🔠 Language
The classes shall be conducted either in English or Cantonese.
💰 Price
The price of a six-week summer camp is $1480.
🙆🏼‍♀️ Cancellation & Rescheduling Policy
Cancellation Policy
A cancellation must be made a full 120 hours(5 days) prior to the scheduled event start time.

If the guest cancels between 168 to 120 hours(7 days to 5 days) before the event, a maximum of 50% of the booking fee may be collected by the host as an administrative fee.

It is non-refundable when the cancellation is made less than 120 hours(5 days) before the event.
.
Reschedule Policy
A reschedule must be made at least 48 hours prior to the event start time. We will charge 150 HKD/per person handling fee for rescheduling made within 48 hours before the scheduled event start time. It can be paid in cash during the workshop.
.
Important Info
If the workshop attendance is less than two people, we may contact you to reschedule your booking 24 hours before the workshop start.
📌 Location
705, World Interests Building, 8 Tsun Yip Lane, Kwun Tong, Hong Kong
Workshops in the summer camp
During the six consecutive Saturdays in July and August, children between the ages of 6 and 12 can participate in a variety of art activities, including making mosaic lamps, practicing Turkish Ebru art water painting, and hand-painting ceramics.Our
Obtain a certificate of attendance.
Upon completion of the course, attendees will receive a certificate of participation as a testament to their newly acquired knowledge and skills.
Host a Private Event with Mosaic Art Studio
Relish the vivid experience of mosaic lamp making with your family, friends, and colleagues at Mosaic Art Studio, your workplace or even online.
Contact Us